Book cover by celebrity artist for Let there by calamities 26 ways Queen Kunti praised Krishna
"I have always admired Dr. Malini Karani's inimitable and distinct visual style and sense of design. Queen Kunti's praise of Krishna is a kind of joie de vivre and I believe her stylized illustration best captures the richness of this sentiment," said Kiran Java. Free promotion launch - available on the Kindle app and Amazon stores Worldwide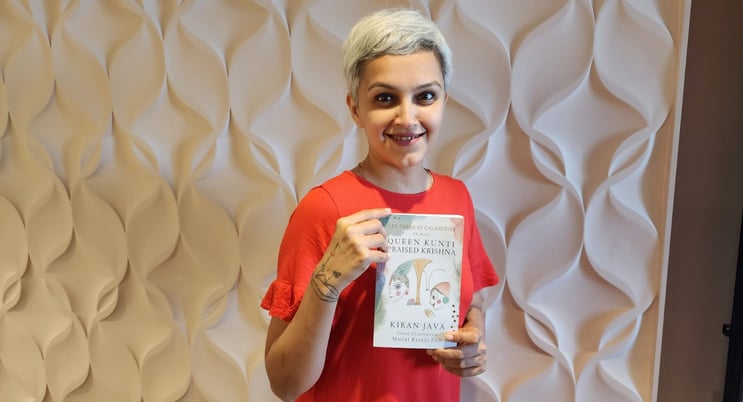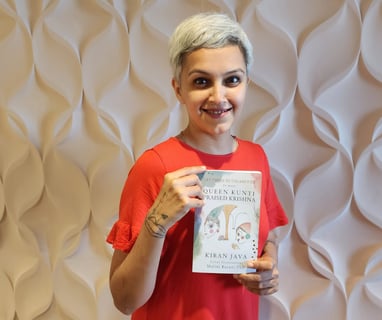 Author Kiran Java's book, "Let there be calamities: 26 ways Queen Kunti praised Krishna," re-launched with a new book cover designed by Dr. Malini Karani, a celebrity artist based in Dubai, UAE. The book is available worldwide on a free promotion on Amazon's Kindle app for three days on 16, 17, and 18 March 2023 from 12pm Pacific time onwards. This represents an all-women international collaboration with the author based in India and the illustrator in Dubai, UAE, a truly dynamic and creative partnership that brings together different perspectives and skill sets.

Malini Karani PhD is an Interior design educator for over 12 years and has graduated with a PhD from Cardiff University, UK. For the re-launch of the book cover, Dr. Malini Karani chose to combine elements of traditional Indian art with contemporary graphic design. Her bold geometric style design with a soft pastel color scheme successfully brings out the subject matter.

"I was so pleased and grateful that Dr. Malini Karani accepted my request to collaborate on the cover design of my book. I have always admired her inimitable and distinct visual style, and sense of design. Queen Kunti's praise of Krishna is a kind of joie de vivre and I believe her stylized illustration best captures the richness of this sentiment," said Kiran Java.

What is the story about?
Let there be calamities: 26 ways Queen Kunti praised Krishna is a sacred narrative from Indian mythology. It is set against the backdrop of the end of the Mahabharata war. As Krishna prepares to return to Dwarka, he is approached by Queen Kunti who prays to him for calamities in her life. She has figured out that whenever danger is present in their lives, Krishna is by their side. She extols Krishna's glories and praises him in 26 different ways.

What is the genre and source of this story?
Sacred writings and is a narrative revered by Hinduism, particularly Vaishnavism. When writing the episode of Queen Kunti praising Krishna I have drawn elements from the Mahabharata and the Bhagavata Purana.

Who should read this book?
Anyone who is interested in Indian sacred narratives should read this short story. Krishna is a charming character, and Queen Kunti's praise of him is an episode from Krishna's life that will pique the reader's interest. Those who enjoy reading about Krishna's exploits will enjoy this story.

Let there be calamities: 26 ways Queen Kunti praised Krishna is currently available worldwide in both paperback and ebook format through Amazon stores.